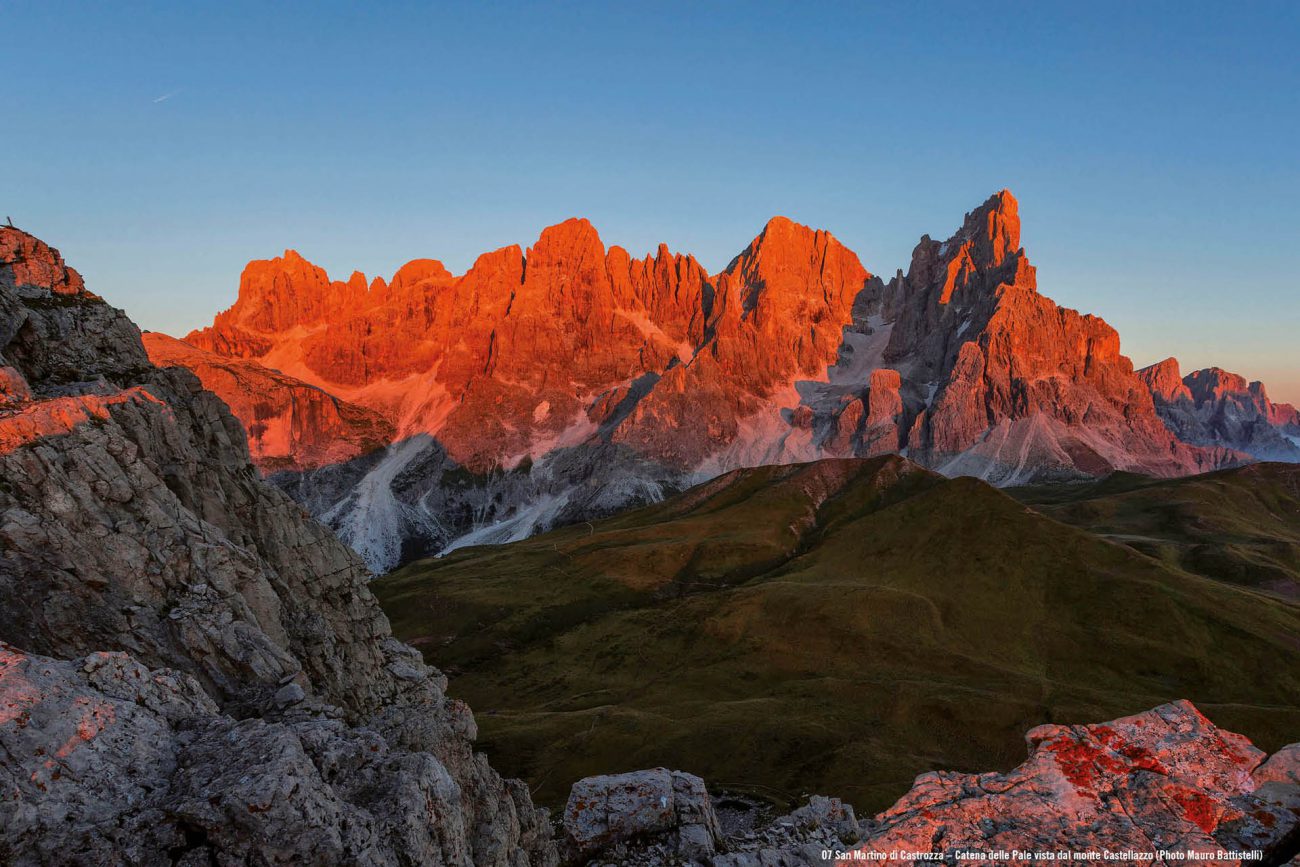 Trentino Dolomites
ALL THE BEST OF TRENTINO SUMMER
Two nature parks and a wide network of large and small protected areas: as much as 30% of Trentino is subject to environmental protection regulations. The need to safeguard this treasure, guarded by the territory together with other treasures like the Dolomites, has acted in time as a strong stimulus to develop new ways of looking at tourism, combining innovation and environmental sustainability. That is why Trentino is the ideal place to look for a holiday in close contact with nature, on the shores of Lake Garda or in the shadow of high rocky walls. The best way to discover this territory is by walking, on a network of paths covering over 5,000 kilometres that will allow you to plan short walks or long excursions to the 146 huts, 400 active mountain dairies and 300 lakes at different altitudes. Or you can get on a bicycle, an e-bike or mountain bike, and pedal on the over 430 kilometres of cycling tracks, or even one of the long circuits devoted to fat wheels. From families to young people, from sportsmen to wellness lovers, variety in Trentino is not just typical of the territory but also of its hospitality. A hospitality that brings together tradition and the values of a family-run business with a managerial approach that can offer high quality standards, always at the right price, accompanied by widespread and high quality services, leisure facilities and great events in summer.
A PASSION FOR TREKKING
High routes, ferratas and hut-to-hut itineraries on the most beautiful mountains
Thanks to its special morphology, Trentino is one of the most popular places for walking. Over five thousand kilometres of paths, well kept and signalled, allow to explore the territory in full. Some stage treks go through areas of great landscape and environmental value.
The Dolomiti Brenta Trek (www.dolomitibrentatrek.it) winds around the homonymous Dolomites massif. You can choose between the Country trek, less demanding and accessible to everyone, or the Expert one, reserved for the more experienced trekkers, with high altitude trails and ferratas.
Via delle Bocchette, which crosses the central part of the mountain group, going through natural ledges on the walls and touching all major huts, is the most spectacular equipped trail of the Italian Alps.
In Eastern Trentino, the Dolomiti Panorama Trek proposes a route 200 km long, divided in 20 stages, through mountain groups of rare beauty such as the Lagorai, Pale di San Martino, Marmolada, Sella, Pordoi, Catinaccio and Latemar. Each one of these Dolomites groups offers to the more experienced trekkers some authentic trekking "gems" and spectacular ferratas.
The Pala Ronda Trek (www.palarondatrek.com) winds around the Pale di San Martino. Here again you can choose between two versions: the "hard" one, five days on ferratas and equipped trails, and the "soft" one, four days with a less demanding approach to the mountains without renouncing the most beautiful views.
The Sentiero della Pace [Path of Peace], that unfolds along 520 kilometres from the Cevedale group to the Marmolada, is a real memory route through the main theatres of World War I in Trentino.
WITH THE ALPINE GUIDES TO DISCOVER THE "TERRE ALTE" [HIGHLANDS]
New this summer
For the summer of 2016 the Collegio delle Guide Alpine del Trentino [College of Alpine Guides in Trentino] launches a new project, a call for adventure in the Dolomites and other mountain groups of Trentino. Three are the guiding themes that inspire 43 recommended and guaranteed experiences: Grande Emozione [Big Emotion], on the Fiemme and Fassa Dolomites, Pale di San Martino, Brenta Dolomites, Lagorai and the Cevedale glaciers; Dalla Guerra alla Pace [From War to Peace], going from the White War theatres to those on the Dolomites front and the Lagorai, and along the "Sentiero della Pace"; Grande Adrenalina [Great Adrenalin], i.e. proposals inspired by the most trendy disciplines and outdoor specialities. The experience is made possible by a package that includes 3 fully active days with night stays in huts, the assistance of mountain professionals, free equipment rental and a teaching, open to everyone, of basic mountaineering techniques.
Information: www.guidealpinetrentino.it
A PARADISE FOR BIKERS
Two circuits and thousands of high altitude routes, together with a widespread service network
Trentino is a land that can be discovered in a nice and easy way also by bicycle, thanks to a quality offer extended to the whole territory. You can ride through all valleys on a 430 km long network of cycle tracks suitable to everyone, including families, or you can venture with a mountain bike on forest roads and high altitude tracks to "ride on the saddle of nature", or even go on spectacular circuits around the Dolomites peaks. Many local tourist resorts are "bike friendly", and they offer dedicated accommodation, bike rental and maintenance services.
Among the best mtb circuits are the Dolomiti Lagorai Bike, with over 1,100 kilometres of offroad tracks through woods, meadows, pastures, alpine lakes and the Monte Corno and Paneveggio nature parks (you can download the gps traces from the (www.dolomitilagoraibike.it) website), and the Dolomiti di Brenta Bike, running within the protected area of the Adamello Brenta Nature park (roadbook and gps traces to be downloaded from www.dolomitibrentabike.it).
THE MAGIC OF NATURE SOUNDS AND SILENCE
Nineteen dates with I Suoni delle Dolomiti [The Sounds of the Dolomites] between July and August
Extraordinary places, extraordinary sounds: in Trentino, on the Dolomites designated by Unesco as Natural World Heritage Site, nature and music will again meet in an ideal embrace next summer, from 2 July to 26 August, for the 22nd edition of "I Suoni delle Dolomiti" (Sounds of the Dolomites), a festival that gives everyone a chance to enjoy renowned artists from the world of classical music, jazz, world music and songwriting, and experience some exciting environmental and cultural habitats as they share unforgettable moments of life and sounds.
Nineteen are the events scheduled for this edition, to open Saturday 2 July on the pastures of Jonta, in Val San Nicolò, with a tribute to Fabrizio De Andrè, starring actor Neri Marcorè accompanied by the Gnu Quartet. A most noticeable date is on 3 August with pianist Stefano Bollani on the meadows of Val Duròn at the Micheluzzi hut, and the one featuring accordionist Richard Galliano on 24 August in Camp Centener, between Spinale and Grostè. For classical music, a remarkable presence is that of cellist Mischa Maisky on 20 July at Rifugio Rosetta Giovanni Pedrotti on the Altopiano delle Pale di S. Martino. Again not to be missed this year is the date with "Dawn in the Dolomites": on 16 July at Col Margherita, a panoramic spot over most of the Dolomites, singer Mari Boine will sing the songs of the Sami people, accompanied by Roger Ludvigsen (guitar), Paolo Vinaccia (percussions), Corrado Bungaro (violin and nyckelharpa), Giordano Angeli (soprano saxophone and guitar) and Carlo La Manna (fretless bass).
Information: www.isuonidelledolomiti.it