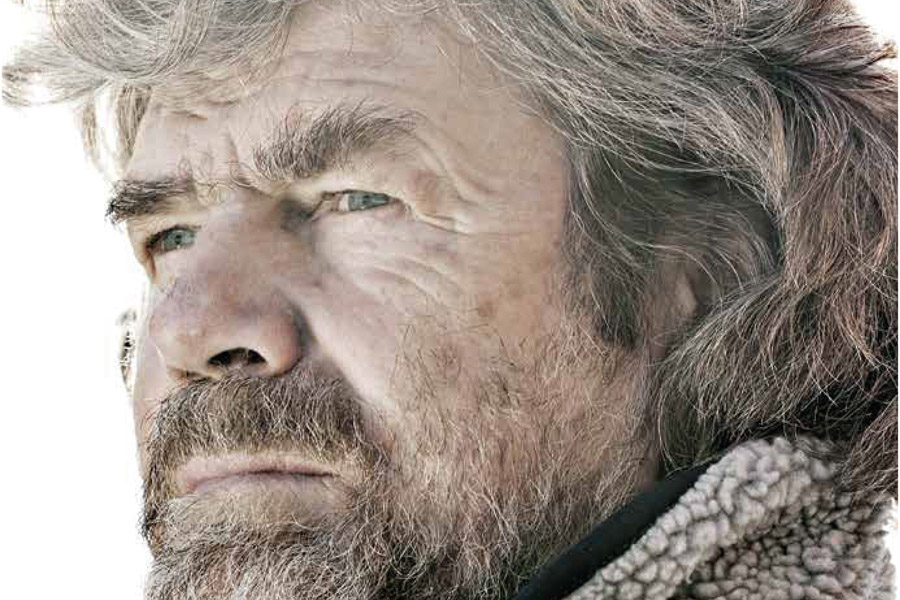 Reinhold Messner: one man, one earth, one truth
Reinhold Messner cannot be labelled. He has built his own role around his personality. This has to be admired. Interviewing him, sharing some of his projects, aims and victories was an honour. Through this interview, we want to describe the thoughts of a man who has always been fighting for what was right for him. This should be a duty for everybody, depending on the means at disposal. And he did it.
Reinhold, internationally known mountaineer, socially committed in the safeguard of the environment and of the quality of life of the inhabitants of the mountain. MEP from 1999 to 2003 and founder, with Edmund Hillary and Carlo Alberto Pinelli, of Mountain Wilderness International (Biella, 31th of October 1987). He was the first to climb all 14 eightthousanders, without the help of oxygen. Anyway, he had already made extreme experiences in the region he was born in, on the Odle, on the Marmolada and on the Three Peaks of Lavaredo. Messner is much more than this: he has been an explorer, in the South Pole as well as in the Gobi Desert (Mongolia). Thanks to his several books, readers have learned something more about mountaineering; his books have been translated in the whole world. His last fascinating trip is divided into six museums in the Alps (MMM – Messner Mountain Museum). Firmian in Sigmundskron Castle is the main headquarter; when you enter it, you have the feeling you are hiking while listening to different voices. Places, emotions, experiences melt, and you can perceive a strong spirituality. There are five other museums: they tell about mountaineering and peaks, but also about the respect that the inhabitants of the mountains have for nature.
MY CHARM FOR CLIMBING…
mountaineering has been fascinating me since I was a child, because I had no other possibilities to express myself (there were not football fields, swimming pools or other things). At the beginning, I used to climb with friends on small rocks and then I climbed always higher. When I was five, I climbed for the first time a three hundred and then when I was twenty I was able to climb the most difficult ways of the Dolomites, where I used to sky years before. The other peaks of the world fascinated me and I wanted to get up there…but how? At that time, I had two choices: my bike or my motor scooter Lambretta, so it was a bit complicated. The period full of adventures out of the Dolomites started later.
DIRECTS WAYS, WHAT I THINK ABOUT THEM…
I grew up after the period of direct ways, but I have immediately realized what would have happened climbing a mountain in such a direct and aggressive way. Hammering a nail just to get to the top in the most direct way does not make sense and does not honour the rock you have to climb. There are no compromises: you avoid effort. You have to win against the rock at all costs, nail after nail. In any case, you do not respect the mountain. In 1968, I wrote an article about this topic, "Assasinio dell'impossibile" (Murder of the impossible). In this article, I wrote that mountaineering does no longer make sense if you do not respect the natural structure of the mountain. The attainable on the rock has been abolished; we killed it because we use technology in order to pass obstacles. Maybe it is not clear: mountaineering is based on the attainable.
Since 200 years, every generation has been trying to find a system to defeat the attainable of the previous generation. This bothers the mountaineer who wants to cope with difficulties, using the own abilities and courage to overcome them. I created a new philosophy of mountaineering through this article, the meeting of savage nature with human nature. Laws which have been
existing for millions of years and which we have to honour.
THE SURVIVAL OF MOUNTAIN POPULATIONS ON THE DOLOMITES…
is a very important topic for me. I have been living for 10 years with mountain people from all over the world, from Tibet to Andes. I have learned that there is no that much difference between them and local farmers, who live thanks to agriculture and breeding. The mountain has imposed rules and forced people to behave properly and to follow the rhythms of nature, here and in the rest of the world. I personally manage three lodges, and one of them is self-sufficient; for this reason, I know the difficulties of managing such companies in a productive way. The problem is that politicians do not consider the daily problems a farmer has to deal with. This happens because the people who take the decisions live in the city and have no idea about life in the mountains. Mountain people should be left in peace, because if we keep on like this, we will destroy the fields of this territory, which should be incentivized instead.
You just need to have a look around; fields are uncultivated, woods are covering the meadows, and there are many ruins. I fight against this kind of policy. People who want to work in the fields should be free to do it. In South Tyrol, the situation is much better than in other mountain areas, thanks to the legal institute of the "Maso Chiuso", through which the indivisibility of the agricultural property is preserved. In other places, for example in the province of Belluno, many farmers have abandoned the fields, and there everything is destroyed. In France, and this is interesting, many young people who have not found jobs in the city, have gone to the mountain and started to do innovative agriculture in surfaces which had been abandoned since 50 years. For example, in one farm more than 2000 sheep are put to posture. With the milk, they produce cheese and they sell it. The government should subsidise such ideas, because this kind of activities is disappearing.
MMM The Messner Mountain Museums…
have not been easy to realize. They are in South Tyrol and in the Dolomites because I am from this territory. It was not easy because I wanted to open one of them in Sigmundskron Castle.
The battle lasted 5 years…I thought I should have given up. But I did not, and I tried to find another solution: dividing my project in five areas. When the situation was solved, Sigmundskron Castle became headquarter, with other five branches. Corones, dedicated to Trad Adventure Alpinism, Dolomites, in a fort of the Great War, Juval, dedicated to the myth of the mountain, Ripa,
with works and objects from the most important mountain places and Ortles, dedicated to ice.
FOUNDATION DOLOMITI UNESCO…
I know they do not have money, but I know that their good projects should be supported. In 1991, I tried to candidate the Dolomites as World Heritage Site, but nobody listened to me. Today, these mountains have received a great recognition, which should be expanded from Natural to Cultural Site.
MY PHILOSOPHY…
is simple. Every person should have courage and determination in order to achieve the final aim, even if difficulties are present. An obstacle should represent an opportunity to test oneself.
If you achieve your goal, you are a great person.
SOFIA BRIGADOI (Traduzione Sara Covelli)