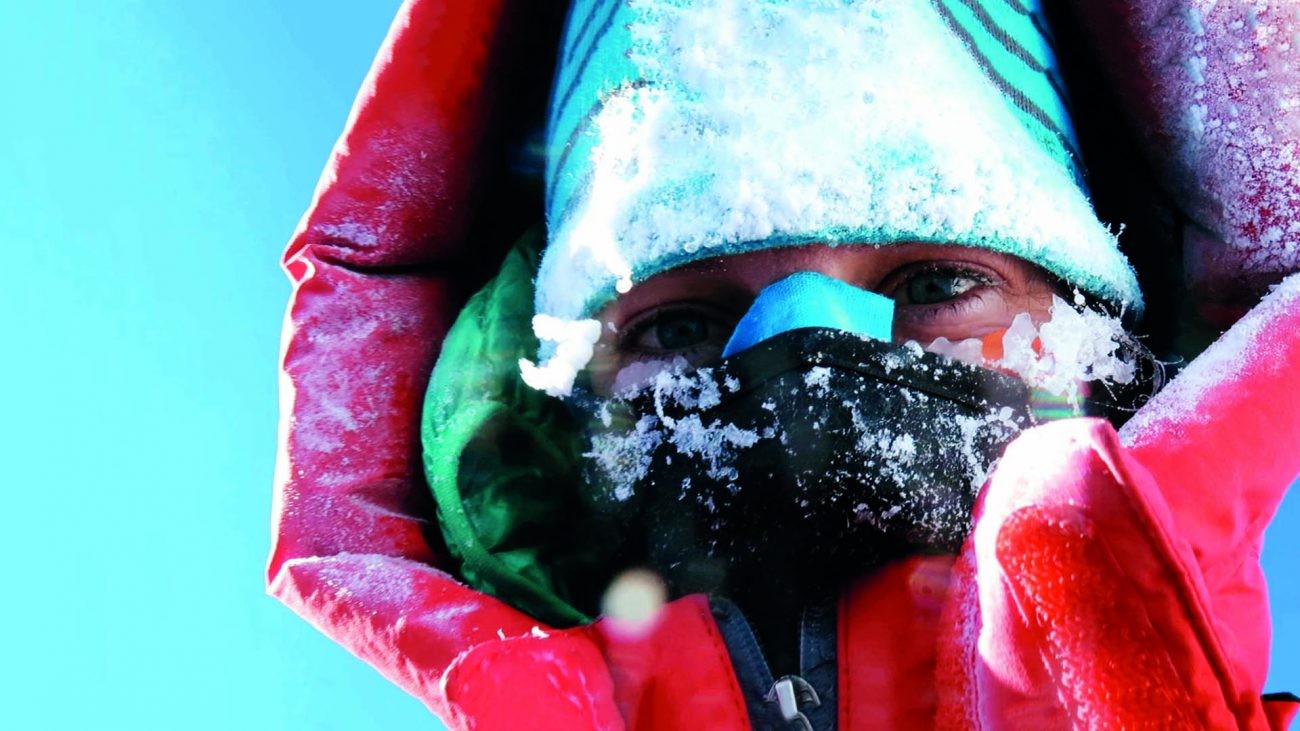 Face to face with Tamara Lunger, Maurizio di Palma and Nicole Fedele
Tamara Lunger
the mountaineer of silence 
"This is the life I want… I have to thank myself, the Universe and God, most of all, who lets me live it"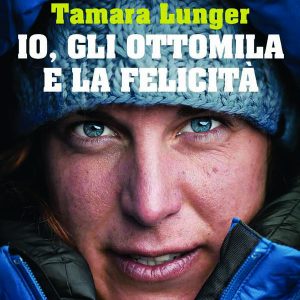 Every time I read some news about Tamara, I imagine her incredible bravura. She knows where she wants to get. She is as ingenious as a man and as courteous as a woman. She welcomes her conquers without shouting therefore it means she has acquired her own self-confidence over time. When she gets her targets, you can understand how talented she is. You cannot remain indifferent to her open-heartedness, to her ability to fight. This is what makes her a winner, even when she gets defeated.
Tamara was born in Bolzano in 1986. She achieved many objectives that we do not want to note like a mere shopping list, but please know she became the youngest female climber (she was 23) when she reached the summit of Lhotse and, in 2014, she ascended the K2 (until 8611 mt) without oxygen. Some months ago, she gave up at just 70 mt from the summit of Nanga Parbàt during a winter ascent because she understood that those last few steps to the top would put at risk her and her companions' life. Do you think that's enough?
Last February she published Io, gli ottomila e la felicità (Rizzoli), where she tells her innate desire to know the world through her sport.
We listened to her and one of her answers astonished us – What do you suggest a young person who wants to follow in your footsteps? – "To fight until the end, to never give up, to focus on the target as he would focus on a mountain top. Things often change in an undesired way, but there is always a reason why and it does not mean you are on the wrong way, only that the landscape around you has changed. If you are able to bite the bullet and not to surrender, sooner or later your life will give reason to you".
Maurizio di Palma
the "flying squirrel" 
"Detaching your feet from the mountain and, in a few seconds, getting from the point A to point B by gliding at a whirling speed – what an emotion!"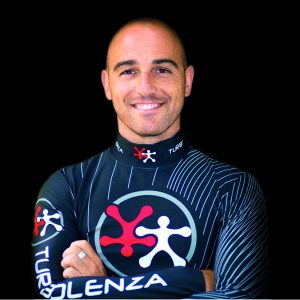 The B.A.S.E. Jumping (Base means Buildings-Antennas-Span-Earth) is an extreme sport where you jump into the void from buildings, towers, bridges and high elevations then you parachute to the ground. For some years, the use of a wingsuit – shaped like the body of a flying squirrel – has allowed the freefall style lovers to lengthen their falling times. A risky but spectacular technique is the Proximity flying – the athletes fly down the mountain walls very closely through narrow cracks between two rocks.
Maurizio di Palma, 37, is the most famous Italian jumper. He has jumped from very different elevations: from Eiffel Tower in Paris, from the Dome of Milan (as well as the Colosseum, Pisa Tower…), from the Angel Falls in Venezuela, from Campanile Basso in the Dolomites of Brenta. He lives in Trentino and some years ago he opened a Base Jump School on Monte Brento.
Here's what he told us. "Thanks to the wingsuit, the flying times get longer, more than a minute according to the altitude you can cover. If you can fly for 1000 mt, you can move forward for 3 km motorless. Moreover, when you fly with a wingsuit you do not look down, but ahead. You can follow some lines, pass across the cracks and fly down deep gorges. It is amazing… flying using your body and nothing else rewards you with an immense sense of freedom.
To perform these flights, you must rely on your specific experience; we all have performed thousands of jumps and we all are expert skydivers. Having said that, anyone can practice this sport if he or she is a healthy person and if he or she is strongly motivated. I know 20-year-olds but also over-sixties.
The jump is what I call "the final orgasm". To reach a target, you often have to "sweat… make efforts" and when you go ahead despite the difficulties, without losing your point B, you toughen yourself up. Say to yourself "I won't give up: you can adopt it in any hard time of your life".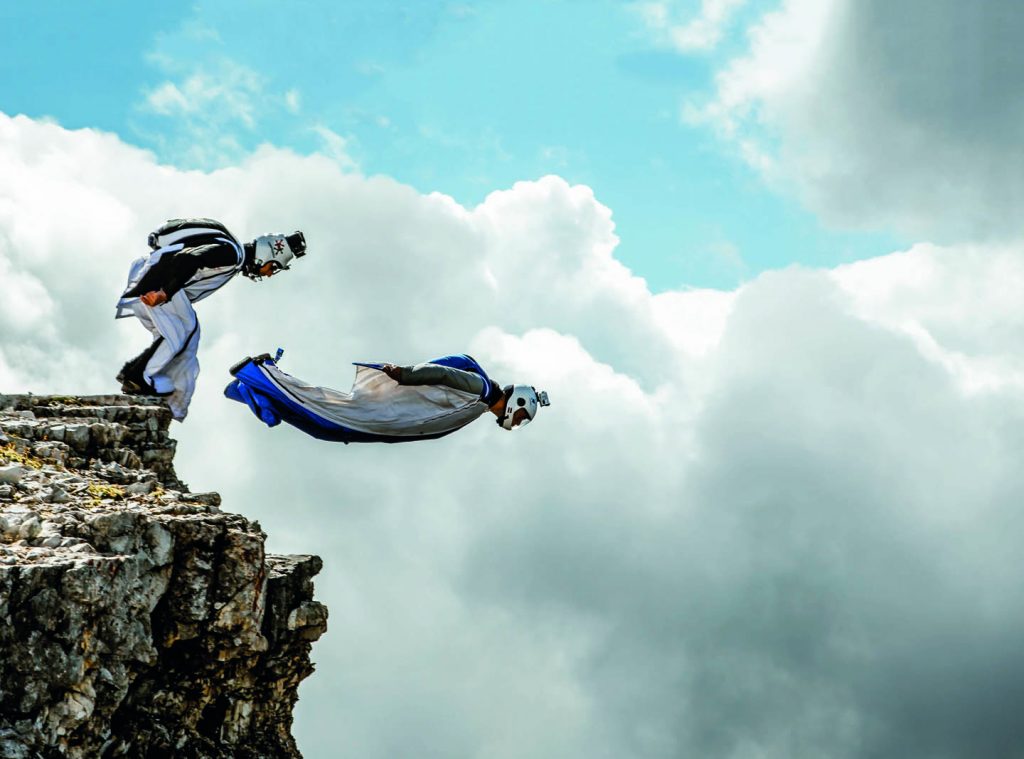 Nicole Fedele
the other half of the sky
 "Paragliding is everything for me. My life, my dreams. A passion that makes me look farther and farther. Beyond my limits"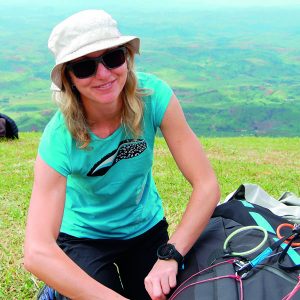 Nicole has gone paragliding since 2002. She considers herself a "down-to-earth" and determined girl. Paragliding became part of her life by accident, but overwhelmingly. Since that day, she has exercised a lot to win her major titles year after year. She was born in Friuli 32 years ago, she graduated in Translation Sciences at the University of Udine and she is the holder of many world records. This year, she has become the world vice-champion in Brazil. A prodigy. Moreover, she is a tandem pilot, an instructor assistant and an expert free flight guide in Friuli and Slovenia.
"Flying" she said, "gives you a sense of unlimited freedom even if, where you are up there, you realize you are as tiny as a drop in the sea. It is a disarming sensation, but it lets you become more aware of yourself and observe your world with different eyes. And up there you pay your own mistakes… nature does not forgive. All these emotions get things and yourself into the proper perspective and make you understand that to fully enjoy your life and to do everything you can you have to live passionately. This is what I try to do every single day.
I would like to say that this sport, if practised following specific rules, is suitable for many people. If you are interested in experiencing the emotion of soaring accompanied by a qualified pilot, try the tandem paraglider, suitable for everyone, even for children and old people".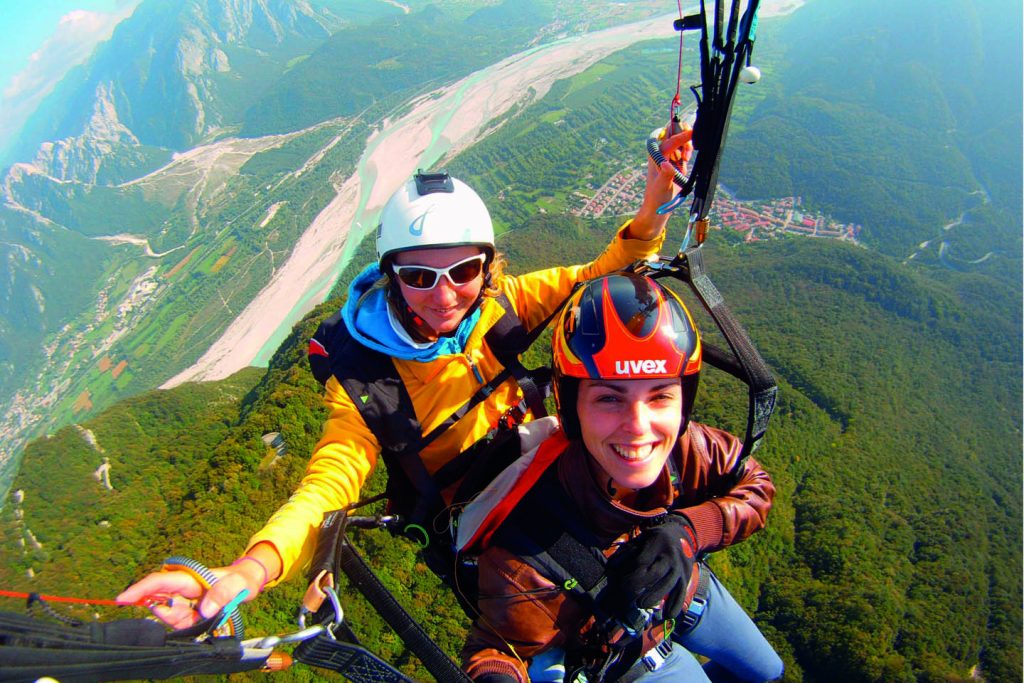 Foto copertina Tamara sul Nanga Parbat, 2016, 8000 m – Photo © Tamara Lunger
Foto Maurizio di Palma – Photo ©  Vania da Rui