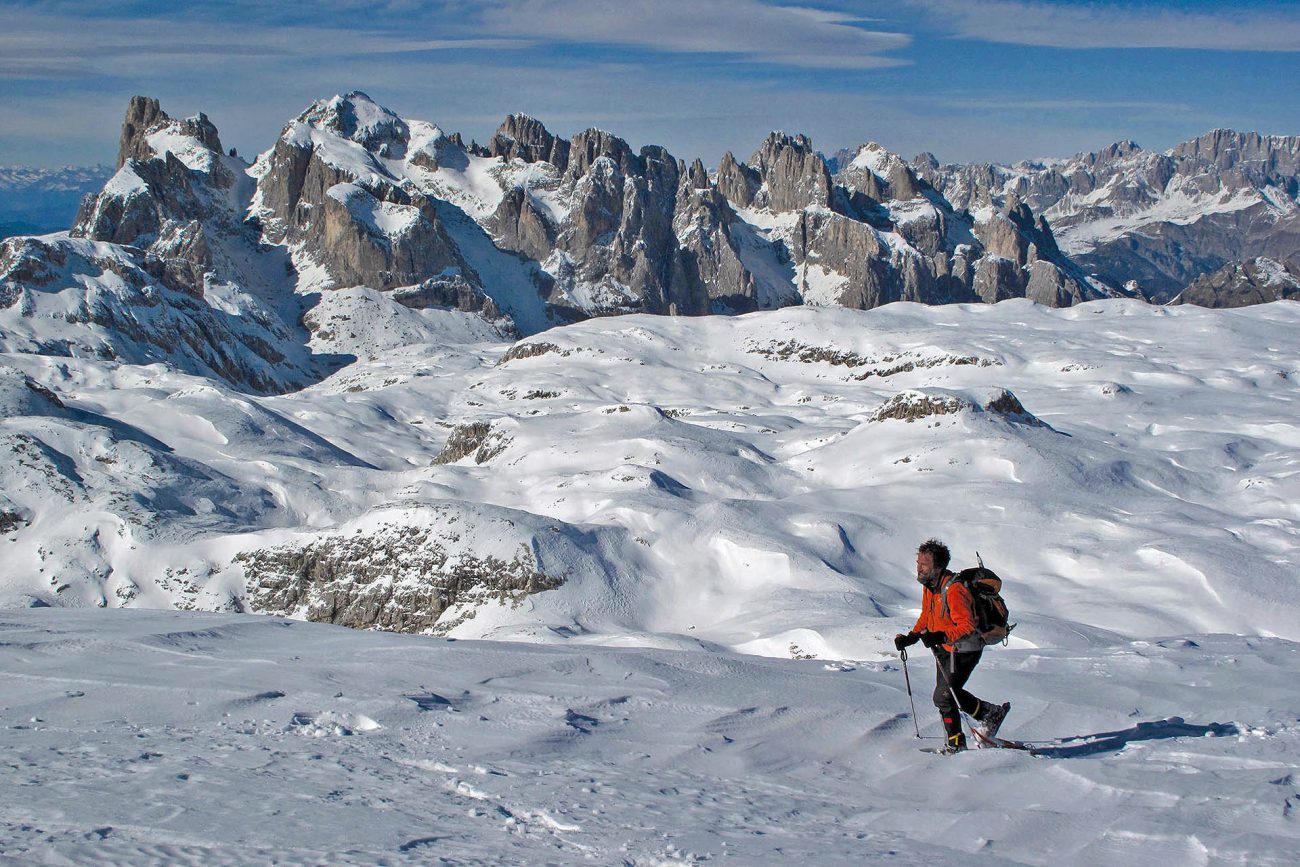 The Dolomites for the soul
An unusual description of a kingdom at the border with the sky
From the round mountain peaks dominating the city of Bressanone, I admire the turreted rock walls of the Odle, in the northern area of the Dolomites. It is winter and I am on a 2,500-meter high top, but I am still walking on some grass coming out from the few centimetres of snow. With this weather, you have to walk through the wintry Dolomites. I have chosen to follow the Alta Via n. 2, or "Way of the legends", usually walked through during the summer. Through this "Alta Via" you can immerse in the beautiful dolostone castles, when quiet, solitude, freezing cold and the shining sun turn part of this kingdom into remote and out-of-time spaces. I recognize the usual profiles of the Dolomites, but they have been shifted in another era, free from human intervention.
When I get to the top of the plateau Sella, I go back to ancient times, as on the Puez, and I walk through it. I walk on a waving desert of stones and snow to reach the top of the Piz Boé. From the freezing vapours around the suspended border of the ancient coral atoll emerges the Marmolada, a big isle that needs to be walked along between the mountain chains of Padon and Cima Bocche, memory of the Vulcans that grew in the tropical sea. I am still astonished by the absence of human beings in such a beautiful place, just above the crowded artificial whirls. I am convinced that the numerous chamois on the Padon, among red and black defensive towers, or the white partridges in the Valle di Contrin (Contrin Valley) or the nutcrackers flying in the light above the tops of the Swiss pines, are not there just because "it is their habitat", but also because their perception of beauty is not diverted as in our mind. In two days on the plateau I live two opposite experiences: the thick fog on the snow, or whiteout, which means "to vagabond without knowing where you go", and the light blue of the top of the Fradusta, with the immensity of the southern Dolomites under me. The Vette Feltrine, the last mountain chain towards the end of my hike, are arduous and steep, and you have to circumvent before walking along the icy and karsic hollows of the Buse, suspended amphitheatres on the flat world. The Dolomites slop downstream: I am glad for the knowledge I got in these days from the thousand faces of the living substance; and I keep in my mind the thought of the Norwegian explorer Fridtjof Nansen about how to approach the Earth: "It simply means working together with the forces of nature, rather than against them".
Text and photos by Franco Michieli
[Translation by Sara Covelli]
credits:
foto1: Cimon della Pala, Vezzana e Bureloni salendo alla Fradusta
foto2: Alpi Feltrine, Val Belluna e Dolomiti Bellunesi.